Ironman 4x4
Suspension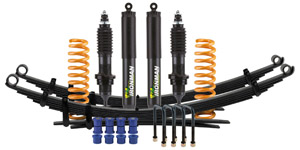 Complete integrated suspension systems used by military organisations, fleet and mining corporations and 4x4 enthusiasts in 160 countries.
Bullbars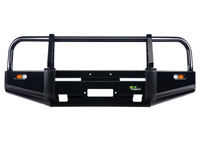 Frontal protection crafted from premium grade materials and components to deliver the most comprehensive frontal protection and styling available.
12V Electric Winches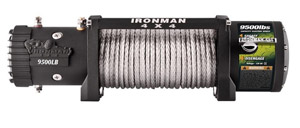 Never leave home again without the security and peace of mind offered by an Ironman 4x4 winch.
12V Fridges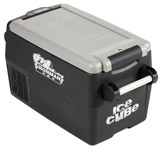 Built tough for Exploring Australia! The Ironman 4x4 Ice Cube 12v Fridges / Freezers keeps your food fresh and your drinks ice-cold.
Air Compressors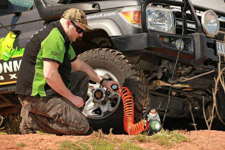 Ironman 4x4 portable air compressors offer a convenient solution to re-inflate your tyres wherever you are.
Canvas Seat Covers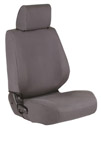 The class leading range of Tailor Made Canvas seat covers. Custom designed to suit your specific vehicle type.
Camping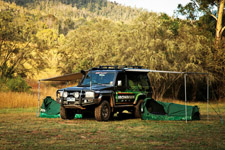 Get all the camping products you need to ensure you can stay on the tracks longer and in comfort!
Canopies

Turn the back of your ute into a safe, lockable dry space. Ironman 4x4 canopies are lightweight, strong and built to withstand the harshest Australian conditions.
Dual Battery Systems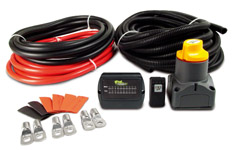 A must have for any serious traveler. Allowing you to use your 12 volt power without risking a flat starting battery.
Exhaust Systems

Get more power, more torque and better fuel economy!
Lights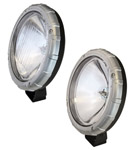 See more, on and off the road. With halogen, HID and LED lights we've got your lighting needs covered.
Long Range Fuel Tanks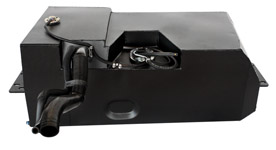 Travel further and with less fuel stops. Engineered to maximise your fuel capacity and keep the weight down low on the vehicle.
Fleet & Mining Solutions

Complex vehicle conversions require experienced engineering solutions which is why Ironman 4x4 has for more than 55 years been at the forefront of 4x4 suspension and accessory development and supply.
Recovery Equiptment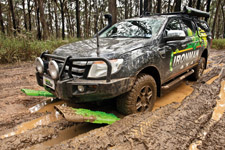 Get the recovery gear you need, to get you home after a day on the tracks. Winches, straps, Treds etc.
Roof Racks

Ironman 4x4 has a full range of steel and alloy roof racks available. Perfect for extra storage space and keeping items outside the vehicle cabin.
Snorkels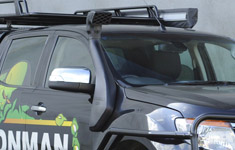 4WDs fitted with Ironman Snorkels benefit from increased airflow to the engine and a raised air intake to minimise the chances of water intake.
Steel Side Steps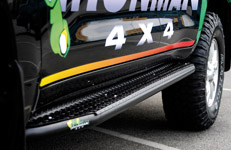 Ironman 4x4 steel powder coated side steps and side steps and rails not only give your vehicle protection but also aid you to get into your vehicle.
Storage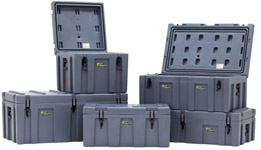 Storage solutions for your 4WD, ute trailer and van. With a range including drawer systems, space cases, tool boxes and ute boxes. Find the storage solution that's right for you.
Underbody Protection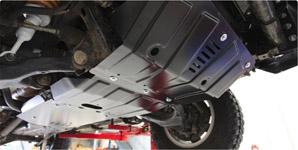 Offroad driving exposes your vehicle to damage. Underbody protection plates are relied upon offroad as a layer of armour under your 4×4.
Rear Protection Tow Bars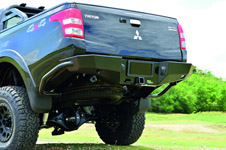 Protection, towing and recovery points in one attractive rear bar.
Tow Bars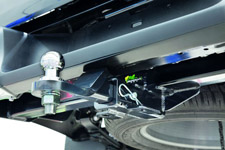 Ironman 4x4 has designed and developed tow bars to suit 4x4s, maximizing clearance to ensure that off-road performance isn't hindered and are designed to work with the original bumper.
Tow Bar Wiring Looms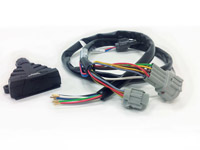 Ironman 4x4 has released a range of vehicle specific Plug and Play wiring solutions for quick, easy DIY installation.
Rear Sports Bars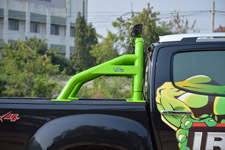 Ironman 4x4 rear sports bars are in a class of their own. Adapted from military applications for offroad recreational use.
Ute Liners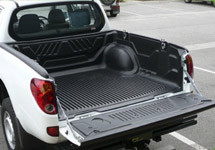 Ironman Ute Liners are 3mm thick and come STANDARD with chrome tie down points and require NO DRILLING. Using a Ironman Ute Liner will significantly increase vehicle resale by minimising damage to your tub.